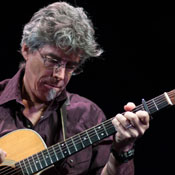 Bruce Balmer was born a guitar player in Margaretville, NY, from a musical family.
Since music at Marlboro college, he's played lead guitar for rock, jazz, and country bands, and composed for dance performance and film (including credits on a Bill Plympton animated film).
He is a singer/songwriter recently of the NYC area. He and his thousand pound upright piano have now officially transplanted themselves to Texas.
He pounds nails while singing.

Listen to
Get Outta Park
in the Soona Songs store
Artist Census
Name:
Bruce Balmer
Instrument(s):
Guitar, Lyric Baritone Voice, Keyboard
Discography:
UPSTREAM
, 2000
BLUES/BOSSAJUMP/WALTZ +4
, 2004
GET OUTTA PARK
, 2014
Influences:
Musical family, Blanche Moyse, Jimi Hendrix, Elvis Costello, Segovia, Jack Hardy, Lisa Markley, American Songbook
In your CD player now:
Ideo Jazz 1999,
Wildflowers
- Jonathan Byrd, Arleta
Guilty pleasure:
Zatoichi films
The first song you learned to play:
"Pussy Cat" on the piano, ca. 1953; first sung song with banjo, maybe "Green, Green" about 1963
Current projects:
NEW RELEASE!!!!! GET OUTTA PARK!!! COMING TO YOUR TOWN!!!!
Upcoming shows:
Bruce Balmer
Favorite candy:
Circus Peanuts
Best old movie:
Cul De Sac
- Roman Polanski
Best new movie:
14 Blades
Current hometown:
Dallas, TX
Previous hometowns:
Woodstock, NY; Ft. Collins, CO; Jersey City, NJ
Anything else about you?:
I'm happily married to Lisa Markley
Webpage:
www.brucebalmer.com