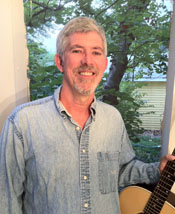 Kevin began this journey by listening over and over to the singer-songwriters of his youth, the usual folks, Lennon and McCartney, Bob Dylan, Paul Simon and the like. Although Kevin's taste has expanded over many different musical borders since then, at the core is the sound of a voice telling a musical story to the accompaniment of an acoustic guitar.

Listen to
It's a Circus Here, Dolores
in the Soona Songs store
Artist Census
Name:
Kevin Elliott
Instrument(s):
Guitar(s), Vocals
Discography:
You Really Had To Be There
, 2006 - independently released
It's a Circus Here, Dolores
, 2011
Influences:
Singer-songwriters like Paul Simon & Tom Waits, plus guitarists like Leo Kottke
In your CD player now:
Shannon Stephens
The Breadwinner
, & Dave Rawlings (with Gillian Welch)
A Friend of a Friend
Guilty pleasure:
Addictive bicycling (hoping to ride coast-to-coast in a couple of years)
The first song you learned to play:
"Helplessly Hoping" by Crosby, Stills & Nash
Current projects:
Getting ready to record my new (as yet unnamed) CD at Soona central!
Upcoming shows:
listed at
www.kevinelliottmusic.com
(opens in new window)
Favorite candy:
Jelly Belly "sours" or cinammon
Best old movie:
Psycho
(or
It's a Mad, Mad, Mad, Mad World
)
Best new movie:
Pulp Fiction
(is this a personality test?)
Current hometown:
Urbana, IL
Previous hometowns:
San Francisco, Denver, Iowa City (& a few others)
Anything else about you?:
I bake cheesecakes! I also have a radio show (for 14 years), From the Joshua Tree Inn on WEFT, 90.1 FM, Champaign, IL (also at:
www.weft.org
). Oh yeah, I have a therapy practice (
www.kevinelliottcounseling.com
) & have been married to Sandra Ahten for 10 years (you can check her out at
www.reasonablediet.com
)
Webpage:
www.kevinelliottmusic.com
(opens in new window)