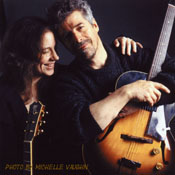 Markley & Balmer, an indefinable duo, who blend jazz, folk, pop, bop and the occasional polka into a stimulating mix for your listening pleasure.
Lisa Markley
(vocals, guitar, banjo) and Bruce Balmer (vocals, guitar), both talented songwriters, come together to present us with a most entertaining package. As an innocent bystander once noted: "Lisa has a dangerous contralto that vanquishes Bruce's studious attitude on an antique guitar."
What others have said:
"... some of the most accomplished musicians I've ever heard ... the second coming of Ella and Bird ... the Tuck & Patti of the singer-songwriter world."
-- Tom Prasada-Rao
"crafty and passionate"
-- Beth Wood