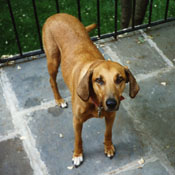 Ghost Dog Blog
12/29/06
Happy New Year from Soona Central! Long time no blog, but if you're on our mailing list you already got your free holiday gift wrap on great musical gifts from the Soona Songs store and had the happy holiday of your choice. You're not on the mailing list yet?!? Join now!
And you probably already know that you can now find all your favorite Soona Songs on iTunes U.S., iTunes Canada, Rhapsody, MusicNet, Napster, and Sony Connect, as well as iTunes Japan, U.K./Europe, and Australia. Soona's tunes are going traveling and waking up in iPods worldwide. Follow the links to iTunes et al in the Soona Songs store. and type in the name of any Soona Songs artist.
Lisa Markley's new jazz album, The Sky is Blue and Sometimes Cries, has finally gone to press! You'll have to wait for mid-January to place your orders, but you can download a free track on the Soona Snacks page to tide you over. The new album was mastered by grammy-winning engineer Bob Katz in Orlando and Soona is very happy with the classic, swanky jazz club sound. If you're in Dallas on Thursday, January 25th, you can join us at the CD release party, where KERA's J. Paul Slavens, Jeffrey Barnes of grammy-winning Brave Combo and Bruce Balmer will accompany Lisa. The show will be at the Sons of Hermann Hall, 3414 Elm Street, 7:30PM, cover is $10, all ages are welcome, and black tie is optional.
If you're in the Chicago area, Lisa will be performing on WFMT's Folkstage on Jan. 13—members only show at 7:00, live radio broadcast at 8:00.
In other artist news, Alt-rock band Radiophonic was able to schedule an unexpected recording session this October. They've promised us that the new album will include songs about lost love, frogs, wearing grass skirts, video games, and post modern alienation--and will someday have a title. We can hardly wait. Radiophonic has also been hard at work putting together a super cool MySpace page. Soona's got one too, check it out at myspace.com/soonasongs.
So have fun, get yourselves a safe ride home, and have a happy new year! We're looking forward to a 2007 filled with music and auld acquaintances. Come back soon!
Cheers!
Soona
---
10/13/06
Happy Halloween everybody! Departures has arrived! Confused yet? We mean, Marilyn Duncan's second album Departures is now available from our webstore , and we're psyched to see the first of this year's planned releases sounding and looking so good! Three more new albums due out in the next 6-9 months...it's full steam ahead here at Soona Songs!
If you happen to be in Dallas, you can check out Marilyn's CD release show at AllGood Cafe on October 19th at 8:00. Come for the music, come early for the chicken-fried-chicken (or the veggie plate with killer mashed potatoes and market fresh veggies, yum). Or come for the chicken and stay for the music, we're not picky. Should be a fun night, and with cover only $5 you can afford an extra round of Lone Stars.
At least one of us will have to pass on the Lone Stars, though, as late that night members of geographically challenged band Radiophonic will be flying in to complete the last recording sessions for their new record (title still undetermined). If last fall's session was any indication, this one should be a good time. what has Radiophonic been doing in the meantime, you ask? Well, Brian and Daniel have been working on the rock bands of the future--that is to say, they both became daddies! (to little Justice and Mia respectively). Life happens, but the music goes on, just sometimes a few months later...
Meanwhile, Soona Songs artist Lisa Markley has finished tracking her new jazz record The Sky is Blue and Sometimes Cries. The CD is due out in December. A host of talented backing musicians have been through Soona Songs studios in the past few weeks, playing everything from bass clarinet to triangle. We're looking forward to hearing the results, once they're mixed and mastered. In other news, Soona Songs is now on MySpace! Check out our profile at myspace.com/soonasongs--which includes links to all of our artists' MySpace profiles, plus, what else, more music!

Happy fall!
---
8/15/06
Hi friends, Soona here, resident Ghost Dog, keeping you up to date on goings on at Soona Songs. Things have been moving so fast this summer that it feels like riding with our heads out the window, but I'll try to bring up you up to date.
The new webpage launches today! Tons of new content—check out the expanded store, the new artist pages, a new slideshow of our artists at work in the studio, the jukebox that will let you hear what I'm listening to as you browse the site, and much more.
It's been a busy summer here at Soona Songs central. Our new artists include Beth Cahill, Lisa Markley, and the band heliopause. In the studio right now, Lisa Markley is hard at work recording her second solo album, a jazz project that includes a few original tunes, some jazz standards, and a lot of songs written by songwriters Lisa knows "that should be standards." Like me, she has a real thing for getting good songs out there. "I really want this record to be about the songwriters," says Lisa, who's lending her voice to songs by Paul Slavens, Jeffrey Barnes, Bruce Balmer, and others on this record. Lisa's recent jazz vocal performances have met with rave reviews at jazz clubs around her home town of Dallas, and the overall sound of her new record is starting to take shape.
After a long wait, we're all ready to celebrate the upcoming release of Marilyn Duncan's second album Departures, which is going to press this month and will be available in September. If you're as busy as we are, you may forget to come back to pick it up in September, so we've letting you reserve a copy right now. The album sounds great and we're all looking forward to seeing the great CD booklet artwork in its final form.
In other news, drummer Michael Galante visited us earlier this summer to lend his talents to a recording project for our subsidiary Soona Sounds. He recorded drum sounds that will be made into a sample set for musicians and producers to use on their own recordings. Watch later this fall for the new Soona Sounds website—where else? www.soonasounds.com
I think it's about naptime for me, but you have fun with the site, do your Christmas shopping early, and let us know what you think! info@soonasongs.com