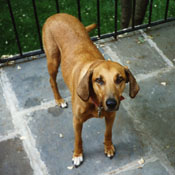 Ghost Dog Blog
11/17/2009
Soona's Holiday Howl
Greetings Soonaphiles,
Ghost Dog here, hoping you are ready for the season of family, friends and feasting (and don't forget the Swedish meatballs for my fellow canines, who aren't allowed turkey).

Esteemed CEO reports that Soona Songs is ready for the holiday rush. Our
online store
has a wide selection of unique albums - something for everyone - and we are offering FREE SHIPPING through January 1, 2010. So, feel good about supporting our hard working Arteests, and buy something!
Speaking of hard working Arteests - Lisa Markley and Bruce Balmer are
hitting the road
west in December. They will be singing their way from Dallas to Seattle with stops in Garden City, KS, Golden, CO, Salt Lake City, UT, Boise, ID, Bellingham, WA, and Denver and Albuquerque on the way home. Catch them live if they are coming near you (and get those CDs autographed).
In other news... Look for Radiophonic's new album,
I Could Have Been a Rocket Scientist
in early 2010 - this will be our first rock release and we're looking at multiple formats (digital, CD, vinyl). Rumor is, there may even be a rocket kit! Also, Beth Cahill's new release,
Songs for Sarah
, should be in our hands in time for February's International Folk Alliance Conference in Memphis.
Soona Artist and singer/songwriter Kevin Elliott will be the first to grace the new Soona Studio here in Jonesborough, TN. We are looking forward to recording Kevin in January. Man of many hats, Graham Duncan, and Esteemed CEO, Marilyn Duncan, are excited about cranking up the equipment and capturing Kevin's collection of wry and wonderful songs.
Meanwhile, enjoy our gift basket of Holiday
Soona Snacks
. In keeping with the family theme, we'll have Mom & Dad's Polka from
Markley & Balmer
and Family Tree from
Old Friends and Lovers
; then representing video games (and a little bit of family), Wonderboy from
I Could Have Been a Rocket Scientist
; and for meditating while you are waiting in the airport for your canceled flight - Slow Drift, from the second heliopause release,
v.ii
.
All of us at Soona Songs wish all of you a safe, happy and healthy holiday season.
Thanks for supporting independent music - especially ours.
Soona
we're doin' art here.
---
9/07/2009
Soona's Late Summer Song
Greetings Soonaphiles,
Ghost Dog here, sniffing the cool mountain air as summer ends and our new Eastern Tennessee life begins. We miss Texas, but not the heat. Unpacking has taken most of the summer and the recording equipment awaits its new home on the lower level of Soona Central - a project scheduled for this fall. In the meantime, esteemed CEO will be in major promotion mode for upcoming releases,
I Could Have Been a Rocket Scientist
by Radiophonic, and
Songs for Sarah
by Beth Cahill.
... and just in case anyone has forgotten, all our albums are available for purchase in our
Store
. Lots of gifting opportunities coming up: belated Labor Day, the Equinox, Columbus Day, Halloween, etc. Independent Music - it's always the right size!
To celebrate our arrival in so musical a place as Tennessee, our
Soona Snacks
will include some songs with a country flavor - "Against the Grain", from Markley & Balmer and "31 Years to Go" from Marilyn Duncan's album,
Departures
. We'll also have a sneak preview from each of the upcoming releases.
As we wire ourselves back together here we wish you colorful leaves, affordable health insurance, and a full doggy treat jar.
Sincerely,
Soona
we're doin' art here.
---
5/22/2009
Soona's Sprightly Spring from Texas to Tennessee
Greetings Soonaphiles,
Ghost Dog here, reporting that the long awaited relocation of Soona Songs is about to actually happen. The microphones are tenderly packed away, the cables rolled and stored, and our esteemed CEO is working through the grief of leaving her beautiful Russ Berger designed studio.
A word from the above mentioned CEO -
"Store's still open - buy something. Thank You"
So let's celebrate!
In honor of this major transition, we will be offering multiple
Soona Snacks
featuring songs from all of the albums recorded here in Dallas:
From Marilyn Duncan's Departures we'll have "Wiley Herman Duncan" -- a song about actually going from Tennessee to Texas, then back again (beware, this is a really long song).


Then we'll rock to "Wonderboy" from Radiophonic's soon to be released I Could Have Been a Rocket Scientist.


We'll take that "Fork in the Road" from Lisa Markley's The Sky Is Blue and Sometimes Cries.


Light up some runways with Beth Cahill, from her upcoming release, Songs for Sarah.


Then paddle upstream with Henry Hudson in "Song for Henry," from Lisa Markley's One Word. Also be sure to check out the review at The Muse's Muse.


Finally, from the Markley & Balmer debut album we'll sing, "Don't Make Me Do It" -- and mean it.
Ghost Dog hopes you enjoy this sampling from the Dallas Daze. And for an audio/video trip down memory lane, watch the Soona Songs
Youtube collection
. The room made a great stage; we will miss this space. We had a great time here and hope for an even better time in Tennessee.
Be well, wash your paws, and thanks to all of you for supporting independent music (especially ours).
Soona
we're doin' art here.
---
3/23/2009
Soona's Spring Serenade
Greetings Soonaphiles,
Ghost Dog here, hoping you are feeling as balanced as the equinox and ready to enjoy the blossoms of spring. Dogwood is our favorite, for obvious reasons.
Lot's happening besides the tilting of the earth. New Soona Snacks; Folk Alliance was a great success; promotion of Lisa Markley's
One Word
is well under way; Radiophonic is slouching towards their first release; and esteemed CEO, Marilyn Duncan is about to trek to Washington, DC for Cherry Blossom time.
Speaking of which - a word from the CEO:
Support the economy, buy a CD. Thank You
New Soona Snacks
A sneak peek (guess that would be download) from the new Radiophonic album and from Markley & Balmer - Landing on the Moon (the song with the most sound effects to ever come out of our studio).
Folk Alliance
Lots of singing and conferencing was done at Folk Alliance in Memphis. Ghost Dog is happy to report that everyone has just about recovered from the effort. Producers/Audio Engineers Graham Duncan and Marilyn Duncan had a chance to meet with and listen to our newest Arteest, Kevin Elliott and get some good ideas for his album. They are really happy with his new material - and expect you will be too.
Soona wishes to thank all the artists who graced our Soona Songs Showcase this year. We also wish to thank our very own photographer, Bill Duncan, for capturing the whole thing. Be sure to watch for a slide show in the near future.
One Word - Promotion
Lisa Markley's new album,
One Word
is out to the DJs and getting some nice spin action. In the irony of the music business, the Folk DJs are playing the jazz standards and the Jazz DJs are playing the original tunes. We are, of course, eternally grateful and send a wag of the tail to them all. And in further promotion - Buy
One Word
(It's Patriotic).
Radiophonic
The mixing is coming to an end for the new Radiophonic album. They have even chosen a title:
I Could Have Been a Rocket Scientist
- and they could have, it is true. Intense discussion is underway as to how best to promote this geographically challenged, musically amazing, soon to be online phenom band.
National Cherry Blossom Festival Cultural Performances
For those of you who still live in Ghost Dog's old Washington, DC metro area stomping ground, come on out on Tuesday, March 31 at 2:00 p.m. to hear Marilyn Duncan sing at the
Jefferson Memorial Tidal Basin Stage
. There will be folk music.
In the meanwhile, Ghost Dog hopes everyone can keep their tails out from under rocking chairs in this most difficult of times.
Thanks for supporting independent music, especially ours,
Soona
We're Doin' Art Here.
---
1/19/2009
Soona's Winter Wonderful Song
Greetings Soonaphiles,
Ghost Dog here, hoping you are keeping warm and safe in all this winter weather. Lots happening for the quiet time of year - Martin Luther King Jr. Day, Obama's inauguration, Lincoln's Birthday, Valentine's Day, the International Folk Alliance conference in Memphis and Washington's Birthday. We very much hope nothing is scheduled for March...
Ghost Dog greatly regrets we don't have an Obama commemorative item to offer in our store. But we do have available Lisa Markley's mesmerizing new album,
One Word
. For those of you who no longer CD, it is also available on
iTunes
, Rhapsody, Napster and many more download sites.
A word from our esteemed CEO:
Order now to surprise your sweetie (and us too) for Valentine's Day. No worry about the fit, or the calories - music is a gift of love, and way cheaper than roses. Thank you.
New Soona Snacks Up!
In honor of the season, we are bringing back Valentine by Marilyn Duncan and a less obvious, but still intense download of love, the title song from Lisa Markley's new album,
One Word
.
Radiophonic, those rocking romantic guys, are working on the final mixes of their upcoming release. All together now - Yes They Can!
The Soona Songs acoustic arteests - Beth Cahill, Marilyn Duncan, Kevin Elliott, The Malvinas and Markley & Balmer are converging on Memphis for the big Folk Alliance conference. We convinced audio engineer/guitar guru Graham Duncan to come along this year too. We look forward to a great time, no sleep, and lots of music.
So, until Spring threatens, take my advice and stay curled up on that nice dog bed near the fire.
Soona
---