The Ghost Dog Blog
9/18/2016
Soona's Back to School Special
Greetings Soonaphiles!
Ghost Dog here, enjoying the cooler weather and hoping our two legged friends are ready to trade the flip-flops in on some sensible shoes and get back to work!
Despite the joys of summer, quite a bit got done here at Soona Central: The Malvinas' new album is in the mix; promotion continues on Kevin Elliott's album, Patterns of Blue; Esteemed CEO slouches closer to completing her new album; and we have some new Soona Snacks!
But first, a word from Esteemed CEO:
It is the time of year for giving - an apple for your teacher, hostess gifts for Canadian Thanksgiving, Halloween, Veterans' Day, American Thanksgiving, etc. Instead of that apple, jam, or wine, how about a unique gift of music. Our CDs are one size fits all, gluten and calorie free - check out the selection at our Soona Songs Store. Thank you.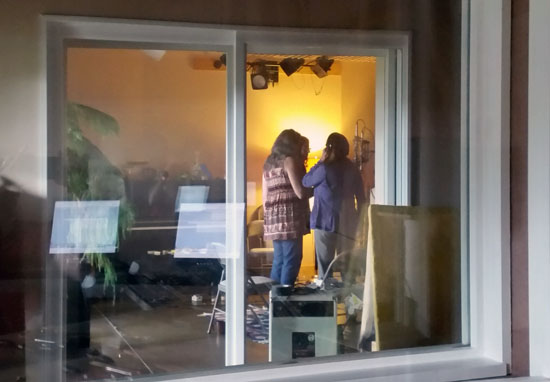 July found
The Malvinas
,
Beth Cahill
,
Gina Forsyth
and
Lisa Markley
in our Jonesborough TN studio. They started their session July 23rd with a live broadcast performance on
WETS FM 89.5
Studio One with David Carter. All warmed up, they hit the studio hard and have 14 songs to show for it. Man-who-can-hear-thoughts, Graham Duncan, was on the board, with Esteemed CEO assisting. Arbiter of Taste and Fashion, Kate Maurer and Esteemed CFO were on hand to keep the session running smoothly. It was a tail-wagging time.

August brought Esteemed CEO and CFO to Champaign-Urbana, Illinois to celebrate the first CD Release Concert for Kevin Elliott's
Patterns of Blue
. This took place at a
WEFT 90.1 FM
fundraiser hosted in Mahomet, Illinois. In September, Kevin and his wife Sandra Ahten came to Tennessee for another CD Release Party at Soona Songs Studio. While he was here, Kevin visited David Carter's Studio One on
WETS 89.5 FM
for a live broadcast, and stopped to play The Bluebird Cafe in Nashville on their way home.
Esteemed CEO also managed to squeeze in some recording on her own album. Just a few tracks left to do...
Soona Snacks - a few musical morsels for your download enjoyment:
"FTW", a true end of the summer song, from Radiophonic's first release,

I Could Have Been a Rocket Scientist.

"When It's Too Wet to Plow", a song, perhaps about dancing, but presumably about getting tools to work, from Bruce Balmer's solo release

Get Outta Park.

And from Kevin Elliott's

Patterns of Blue

a song for the political season, "The Kingpin".
As the sun heads south, we wish all our friends love and light. And thank you all very much for supporting independent music, especially ours.
Soona
---
Ghost Dog Blog archive:
2016
2015
2014
2013
2012
2011
2010
2009
2008
2007
2006