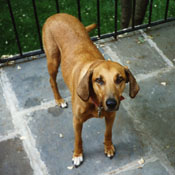 Ghost Dog Blog
11/26/07
'Tween Turkey and Tinsel, Ghost Dog Goes Hollywood!
Seasons Greetings Soonaphiles!
And what a Season it is! We have Gifts for your Giftees, Live Audio/Video Recordings, Inking Celebrations and Lots More going on... so as we Deck the Halls...
First those Gifts, and a message from our esteemed CEO - "let's all stay in the black this year" ... and what better way to watch your budget (and ours) than to
purchase unique and entertaining audio CDs
from the Soona Songs collection - the color and fit will be Perfect!
Live Studio Audience Member Opportunity! If you are near Dallas on Sunday, December 2, we will be video recording
The Malvinas'
Cliff Dwellers House Concert performance. The party starts at 4:00 and the show starts at 5:00 p.m. (donation to the artists $15), so if you want to be there just let us know!
Dark Glasses and Berets will be in order as well, as we video our very own Jazz Diva,
Lisa Markley
. Our dear
Dr. Jazz
, who has
The Sky Is Blue and Sometimes Cries
on radio all over the country, recommends a picture to go with her amazing sound - so YouTube here we come.
As you have probably already gathered, Ghost Dog is happy to report the upcoming addition of
The Malvinas
to the Soona Songs Artist Roster. And speaking of Inking the Deal - we are also happy to announce the addition of power duo,
Markley & Balmer
as new Soona Songs Arteests. (Ghost Dog suspects our CEO will provide a reasonable amount of cheap Champagne to celebrate the actual signing - see, we have gone Hollywood.)
Meanwhile,
Beth Cahill's
album is almost complete. I hope you have had a chance to listen to the sneak preview at the
Soona Snacks
page... ditto for
Radiophonic
, whose album is also slouching to completion.
The approaching darkness of the winter solstice reminds Ghost Dog that it is the light from our hearts that warms us the best. To all our dear friends we wish a safe and happy Holiday Season - and remember, dogs like cookies too!
Soona
---
10/23/07
Short Days, Bright Outlook, Ghost Dog Loves Halloween!
Greetings Dear Soonaphiles,
Ghost Dog here again, hoping you are hale and hearty and putting together a great costume for Halloween. Despite the extension of Daylight Savings Time, unerring canine senses tell me the days are getting shorter - but we can still squeeze in two Shows, two Tours, an in-depth Podcast Interview, and our usual progress report, before heading to the Pumpkin Patch.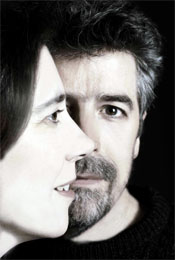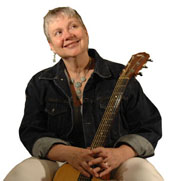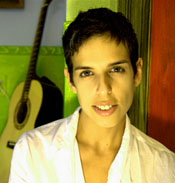 First Show, tomorrow in Dallas, Wednesday, October 24, you can catch soon to be Soona Artists,
Markley and Balmer
at
The Opening Bell
on S. Lamar - show starts at 7:30 p.m.
Second Show, in Dallas, Thursday, October 25, 8:00 p.m. ($10 cover), our fearless leader,
Marilyn Duncan
, will be performing at the
AllGood Cafe
. She will be joined by fellow Texas Singer/Songwriter
Melissa Greener
, who's coming up from Austin.
Melissa kicks off a
Tour
to the East through Nashville with this show. See if she's heading your way!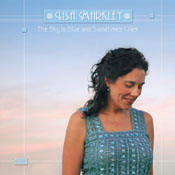 You of course recognized our own
Lisa Markley
as half of the above Markley and Balmer duo - and we happily report that
Dr. Jazz Operations
has Lisa's album,
The Sky Is Blue and Sometimes Cries
, playing all over the country! A big howl from Ghost Dog to both Lisa and Dr. Jazz! P.S.
Buy it!
Lisa
Tours
West to
FARWest
November 2 - 4, where she will wow them with her jazz (helped out by guitar guru, Bruce Balmer). If you are near Vancouver, Washington, you can hear her at The Outer Limits and BakKat WhoDat Showcases, and the Suzanne Millsap Memorial Coffee House.
A little while ago, JW Richards of The Mandrake Society interviewed our esteemed CEO, Marilyn Duncan about Independent Record Label, Soona Songs. You can listen to the Podcast at
Mandrake Society's site
or via
iTunes
. Ghost Dog is not sure whether our CEO can be trusted with this sort of communication, but since she did it, you should give it a listen... certainly it will be a glimpse into the workings of senior management's mind (or lack thereof).
And the progress report...
Beth Cahill's
CD is nearing completion, and while she was waiting (for us), she entered the words to her song, "From the Sky" in a Canada Writes contest, and by gosh made the semi-finals! We knew she could write.. and CBC proves it! Look for a Beth Cahill song as a new Soona Snack!
Radiophonic
is working away with what they want to say and progress can be reported. One of the nearly completed numbers will be a new Soona Snack too... just to keep you tempted for more.
heliopause
is preparing v.II to go with their most popular v.I. Space fans be ready for another journey.
Markley & Balmer will be in the studio soon, to record their first actual release - something new for the Soona Songs In Progress list!
...and Ghost Dog's old friend, Graham (one with too many jobs) Duncan is working as fast as he can.
Meanwhile, have a safe and happy Halloween, and don't forget to begin your
Holiday Shopping
! The best thing about CDs is that One Size Fits All!
Thanks for supporting Independent Music.
Soona
---
9/14/07
Soona's September Song (our apologies to K. Weill and M. Anderson)
Greetings Soonaphiles!
We hope you are all hale and hearty as we approach the Equinox (Ghost Dog is thinking we just had the Solstice). Even without the pinch of new school shoes, it seems like a good time to be getting down to work. (Ghost Dog is also noticing this "work" theme seems to pervade these missives.) Well, it's what we do. Lisa Markley promotion, Beth Cahill mixing, and some new Radiophonic YouTube - we have a lot going on.
Once again, our esteemed CEO would like to remind you the Equinox is an excellent time for CD giving. All our Soona Songs albums, perfectly balanced between light and dark, are available at our
On-line Store
.
On to Lisa Promotion! We are proud to announce our association with Dr. Jazz of
Dr. Jazz Operations
, who thinks Lisa Markley is just as special as we do and will be handling national radio promotion for
The Sky Is Blue and Sometimes Cries
. This CD (which Ghost Dog highly recommends you
purchase
) has been submitted for a Grammy and is being very well received by the Jazz DJ community. We are pretty darn excited.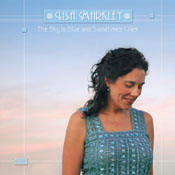 Locked in a dark room somewhere in central Illinois our mixing guru, Graham - one who can hear thoughts - Duncan, is working his aural magic on
Beth Cahill's
new CD. Meanwhile, graphic design guru Brian - one who discerns between CMYK and RGB - Aldsworth, is working on the cover. We may have this album completed before Christmas!
And to tease you about what is coming up for our very own rockers, Radiophonic, whose new album continues under construction, we have links here to two behind the music scenes from the Sessions. Ghost Dog feels these short videos truly reflect the focus required for great art and the serious nature of the recording process.
Sompin Fer Frogs
The Death of Moo pt.2
There are also a couple of videos where they are actually singing in a club, these would, of course, be in front of the music scenes - but you should give them a look anyway.

Video: Darker Tree
Video: Fall Any Farther
Meanwhile, thanks for supporting Independent Music.
Keep your tail out from under the rocker!
Soona
---
8/16/07
The Ghost Dog Days of Summer Are Here – That Must Mean the Best Days!
August is all around us and we hope it finds you stretched out on a beach or by the pool sipping Lemonade or perhaps a Mint Julep, finishing up Book 7! Here at Soona Songs we are still keeping our collective noses to the grindstone so we can grind out those two CDs we have promised you for fall.
Attention Dallasites and Cliff Dwellers! If you have been too shy to knock on Ghost Dog's front door to buy
Lisa Markley's
CD, here's good news for you! The entire Soona Songs Catalog is now available for purchase at Dave's Place in the Bishop Arts District.  Check us out when you are shopping for Antiques and Fiesta Ware at 408 N. Bishop, Suite 102, Dallas, TX 75208.
Downloading now -
Soona Snacks!
One from Beth Cahill's first release – "Heart of Darkness" and "Jupiter Swing-by" from
heliopause v.I
. By the way, there is an unsubstantiated rumor that
heliopause v.II
will be out soon – so all you space fans, be ready!
Our esteemed CEO would like me to remind you that Labor Day is the perfect CD gifting occasion. We have several recommendations, all of which can be found at the
Soona Songs store
– one size fits all!
Other news of note: Our very own arbiter of taste and fashion, Kate Maurer, has been published again! You can read her poems "The Feet" and "Web Worms" at the on-line journal
failbetter.com
In our last episode we predicted a swirl of activity, which did in fact take place!
Beth's
album is close to mixing, and Radiophonic is getting closer!
Many thanks to Brian Aldsworth aka. Madbean, who kept us on track for an intense three daze of Radiophonic delight…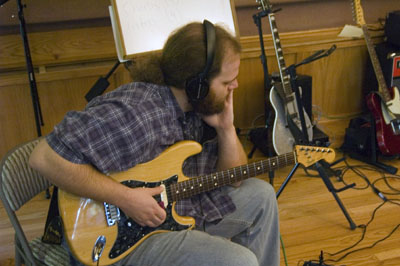 And then the last week of July brought together those two audio magicians, Graham Duncan and Brian Pinke, aka. The Hoody Brothers (seen here in summer clothing). They worked their magic for seven non-stop days and the results are quite pleasing. We hope Beth likes it too.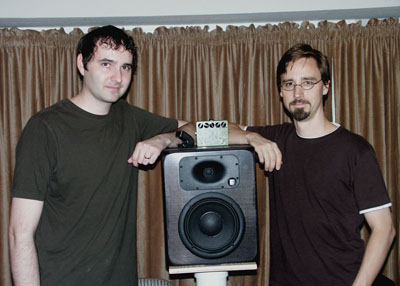 Meanwhile, we hope you have a great rest of the summer. We'll be in touch again in September.
Thanks as always for supporting Independent Music!
Soona
---
7/10/07
Summertime and the Ghost Dog is (Still) Busy!
Greetings Soonaphiles!
I hope everyone had a great Solstice celebration, howled a bit at that last full moon and rocked out to some Sousa on the Fourth! Here we have new Soona Snacks, Lots o' Lisa promotion, and folks coming to town for Work, Work, Work. (This is summer?)
First, a message from our esteemed CEO:
"Buy our CDs! Thank You"
(Ghost Dog personally hates to mention the retail part of the bidness, but if you click that link you also get to see our updated
store page
, and if you actually make a purchase you get to land on our new Thank You page - now how tempting is that?)
On to the
Soona Snacks!
Up this month for free download are two of my favorites, the haunting
Evey's Song
by Marilyn Duncan and the classic,
Norette
by 3 Shot West (I like the way it starts our like a folk song and ends up like the 1812 Overture). Enjoy!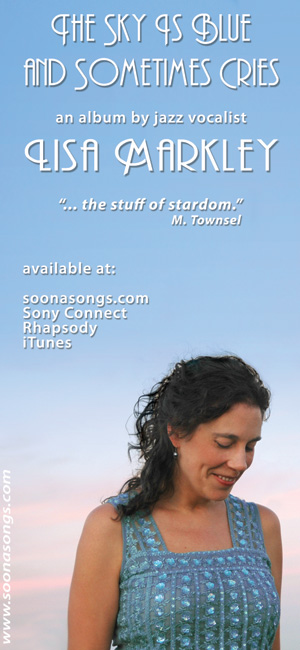 Promotion of Lisa Markley's
The Sky Is Blue and Sometimes Cries
is in full swing. The beautiful ad you see on the left is currently running in the July/August Jazz Times. We also have an on-line promotion at
www.allaboutjazz.com
. We are contacting lots of Jazz DJs and those who have heard this CD really like it. If you have a jazz station you regularly listen to, ask them to play it. If we've missed sending them a copy, just refer them to info@soonasongs.com
Lisa heads West and back again! She is off to Seattle in August - the full schedule can be found at
myspace.com/lisamarkley
Try to catch a show if you are nearby - and if you know of any house concert or gig opportunities en route, please let us know!
Work, Work Work... (but we love it)
The middle of July will bring Brian Aldsworth (guitar, vocals, graphic design, froggie, one that is called Madbean) back into the studio to finish up the
Radiophonic
release with Graham Duncan (guitar, vocals, weird sounds, audio engineer, mixing, one that can hear thoughts). Daniel Loyd (bass, vocals, percussion, one who is in LA) will be adding to the mix from afar. Radiophonic member
Michael Galante
(drums, percussion, one who is in NY) has finished all his bits and wishes these guys would hurry up! Keep your eyes open for an October release!
The last week of July will bring Ghost Dog's good friend Brian Pinke (heliopause band member, guitar, audio engineer, producer, one who is called wise and calming presence) to help us wrap up our two unwrapped projects - Radiophonic and
Beth Cahill
. Beth's album is coming together very nicely. We look forward to a very productive time with Mr. Pinke and a Fall release.
Meanwhile, Thanks for supporting Independent Music (especially ours)!
All the best!
Soona
---
5/31/07
Ghost Dog Wonders Where Time Has Gone?
Current mood: busy
Here it is the end of May and things have been so busy here at Soona Songs we didn't even see June coming! Upcoming Releases - Some Great Shows and even a Review of Departures from musicnewsnashville.com - Wow!
The CDs by Beth Cahill and radiophonic are well on their way. Michael Galante flew on down here from New York to record some most excellent drum tracks for Beth's CD. He arrived one day after the AllGood Cafe show, where Soona Artists Lisa Markley and Marilyn Duncan wowed the crowd with the help of special guest guitarists Bruce Balmer and Graham Duncan. (We always have recording sessions right after shows... it's how we stay sane).
Way back in April, Soona had a great time at the National Cherry Blossom Festival, in Washington D.C., where we saw many old friends and had a wonderful visit with one of our favorite singer/songwriters, Dulcie Taylor. We're looking forward to being there again next year.
We'll keep you posted as our releases get closer to actual release, and meanwhile, don't forget to stock up on the Soona Songs CDs already out for Fathers Day and Solstice presents. We have something for everyone!
Talk to you soon!
Soona
---
4/24/07
Soona Snacks becomes Super Jumbo Buffet--this week only!

Order unique Mother's Day Gifts now! And mark your calendars for a May show!
Greetings Soonaphiles! Just a quick note to let you know that our always tasty Soona Snacks page has been temporarily transformed into a Super Jumbo Buffet of free songs from our catalog. This week only, we have five different songs available for download.

The buffet was inspired by resident rockers Radiophonic, who released an exclusive sneak preview of their new album to celebrate hitting the 1000 friend mark on myspace.com/radiophonicmusic. So, for this week only, you can download the brand new song Fall Any Farther from our Soona Snacks page and get a taste of things to come from this band. For side dishes, check out free songs from all of the other Soona artists--including some popular Soona Snacks you may have missed from the past year.
And, whether you have a jazzy mom, a folksy mom, a far-out mom, or a rockin' mom, there's plenty of time to order CDs for Mother's Day! Beats another jar of bath salts. We ship quickly, so order soon and you'll even have time to wrap it!
In other news, those of you in the Dallas area can mark your calendars for what should be a great show at the AllGood Cafe on Thursday, May 24th at 8:00PM. Three Soona artists, one night! Beth Cahill, Marilyn Duncan, and Lisa Markley will each perform. It's more Soona artists than we've ever packed into one night--and did I mention for only a $5 cover? For more information, check out our listing in the music section of Pegusus News --one of our favorite places for Dallas live music info.
Thanks for keepin' on listening!

Yours,
Soona
---
3/23/07
We're starting Spring off right here at Soona Songs! A recording session, a Cherry Blossom tour and some good news from iTunes!
Soona Songs artist Beth Cahill made it all the way down from Quebec to record songs for her new solo album, nine songs this session, which makes nineteen total new tracks! Sorry, no double album, so we'll wait to see what makes the cut. "There's some great dark northern cold country material and some more southern-ish love songs that have a different vibe," says co-producer and engineer Graham Duncan, who's looking forward to collaborating with Beth. "I'm going to apply some different treatments and see what happens. I want to push the boundaries, experiment with sounds and textures, but stay synergistic." We'll have to wait until summer to hear the results... For now, check out a free song from Beth's first solo album on the Soona Snacks page.
Soona Songs artist and label president Marilyn Duncan will travel to Washington DC in a few weeks to perform at the National Cherry Blossom festival. Catch her on the Jefferson Memorial Tidal Basin stage at 12 Noon on April 12th and 13th. Yep, two shows. And free admission! Rumor has it there will be an after party somewhere in the Gaithersburg, MD area on Friday night, where wine and cheese will be for eatin', fun will be for havin', and CDs will be for sale. Email Marilyn at info@soonasongs.com to request an invitation. Now, how many other record labels do you know who invite you to their parties?
And, after a long wait, Lisa Markley's new jazz album The Sky Is Blue and Sometimes Cries is finally available on iTunes! Also check it out on Napster, MusicNet, and SonyConnect. (Rhapsody users--be patient, it's coming!)
More good news for iTunes users. The Soona Songs webstore now features direct links to each of our releases on iTunes, no searching required! Check out the new links on each CD detail page.
Happy Spring!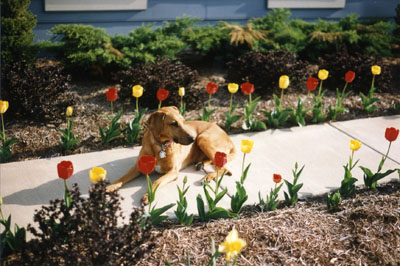 -Soona
---
1/30/07
Hello again. It's been a media frenzy this month at Soona Central. Current mood...unavoidably jazzy.
Lisa Markley's jazz album, The Sky Is Blue and Sometimes Cries, is on the shelves at the Soona Songs webstore and should be available from iTunes and all your other favorite music sites in a few weeks. And it's generating some real buzz around Dallas. Check out the Janurary 24th profile of Lisa and her new record in the Dallas Morning News. In other news, CliffDweller magazine will feature a review of Lisa's new CD in their February issue.
The January 25th CD Release Gala for The Sky Is Blue and Sometimes Cries was a great show. Taking the blue-curtained stage in the historic Sons of Hermann Hall ballroom, all star band Bruce Balmer, Jeffrey Barnes, and J. Paul Slavens opened the show with a great jam session. Lisa's set, which borrowed the song order from the new album, then held the audience quietly spellbound. It was a performance we won't soon forget. If you missed the gala, well, you'll just have to buy the CD and check out the pictures.
Soona has had her own recent brush with fame. Our label had it's own front-page profile in Oak Cliff People. But really, for Soona, it's all about the music, not the parties and the paparazzi...
In other artist news, Marilyn Duncan will perform at the Cherry Blossom Festival in Washington DC on April 12th and 13th. When the weather is nice and the cherry trees are in bloom, you can't beat an afternoon of great live music on the steps of the Jefferson memorial, so mark your calendars.
Until then, you'll have to content yourself with some new Soona Snacks and fresh music in the soonasongs.com virtual Jukebox Bon appetune!
Yours,
Soona