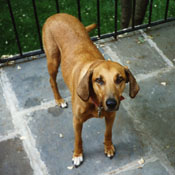 Ghost Dog Blog - 2016
12/1/2016
Holidaze Gifting Edition
Greetings Soonaphiles!
Ghost Dog here, wishing you the very best of whatever you may be celebrating! A word from Esteemed CEO:
Let me recommend music for your gift giving. A nice old fashioned CD, that can even come gift wrapped, if you so desire. Our catalog contains music for every taste, at affordable prices, gluten free, one size fits all. The full selection is below. Thank you.

As the sun moves away, and the days grow dark, we hope you are warmed by the light in your heart.
Wishing to thank all our family and friends for supporting independent music, especially ours!
Soona
---
9/18/2016
Soona's Back to School Special
Greetings Soonaphiles!
Ghost Dog here, enjoying the cooler weather and hoping our two legged friends are ready to trade the flip-flops in on some sensible shoes and get back to work!
Despite the joys of summer, quite a bit got done here at Soona Central: The Malvinas' new album is in the mix; promotion continues on Kevin Elliott's album, Patterns of Blue; Esteemed CEO slouches closer to completing her new album; and we have some new Soona Snacks!
But first, a word from Esteemed CEO:
It is the time of year for giving - an apple for your teacher, hostess gifts for Canadian Thanksgiving, Halloween, Veterans' Day, American Thanksgiving, etc. Instead of that apple, jam, or wine, how about a unique gift of music. Our CDs are one size fits all, gluten and calorie free - check out the selection at our Soona Songs Store. Thank you.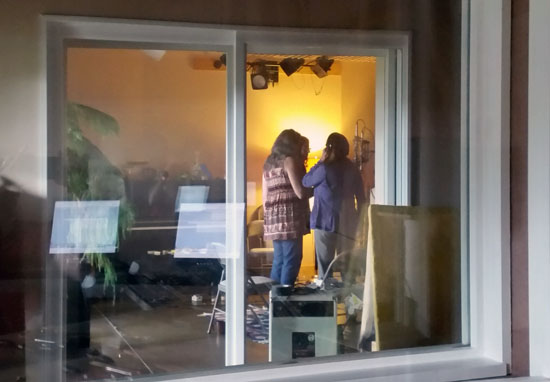 July found
The Malvinas
,
Beth Cahill
,
Gina Forsyth
and
Lisa Markley
in our Jonesborough TN studio. They started their session July 23rd with a live broadcast performance on
WETS FM 89.5
Studio One with David Carter. All warmed up, they hit the studio hard and have 14 songs to show for it. Man-who-can-hear-thoughts, Graham Duncan, was on the board, with Esteemed CEO assisting. Arbiter of Taste and Fashion, Kate Maurer and Esteemed CFO were on hand to keep the session running smoothly. It was a tail-wagging time.

August brought Esteemed CEO and CFO to Champaign-Urbana, Illinois to celebrate the first CD Release Concert for Kevin Elliott's
Patterns of Blue
. This took place at a
WEFT 90.1 FM
fundraiser hosted in Mahomet, Illinois. In September, Kevin and his wife Sandra Ahten came to Tennessee for another CD Release Party at Soona Songs Studio. While he was here, Kevin visited David Carter's Studio One on
WETS 89.5 FM
for a live broadcast, and stopped to play The Bluebird Cafe in Nashville on their way home.
Esteemed CEO also managed to squeeze in some recording on her own album. Just a few tracks left to do...
Soona Snacks - a few musical morsels for your download enjoyment:
"FTW", a true end of the summer song, from Radiophonic's first release,

I Could Have Been a Rocket Scientist.

"When It's Too Wet to Plow", a song, perhaps about dancing, but presumably about getting tools to work, from Bruce Balmer's solo release

Get Outta Park.

And from Kevin Elliott's

Patterns of Blue

a song for the political season, "The Kingpin".
As the sun heads south, we wish all our friends love and light. And thank you all very much for supporting independent music, especially ours.
Soona
---
6/01/2016
Soona's Summer Serenade
Greetings Soonaphiles,
Ghost Dog here, wishing you the warmest of warm months and a steady supply of sun screen and mosquito and/or politician repellent! When whatever is buzzing bothers, we recommend the salve of music, and here is Kevin Elliott's new album to the rescue!

Here at Soona Songs we like to take our time, and are amazed that
Patterns of Blue
has broken all our records for time from recording to release! "An album worthy of your attention" - we certainly agree. Watch for the CD release in Champaign-Urbana! Kevin will be back in Jonesborough, TN for our local release concert and his second live performance on
Studio One with Dave Carter
on September 10.
Up next is Esteemed CEO's third album, tentatively titled
Little Blue Car
. The tracks are mostly in the can, and some wonderful East Tennessee musicians have rounded out the songs. Looking for an early fall release (note how Ghost Dog is not saying which fall...)
July will bring The Malvinas (Beth Cahill, Gina Forsyth, and Lisa Markley) to the Soona Songs Studio. Only ten years in the planning, we look forward to a wonderful session for a long awaited album. This female power trio will also appear on
Studio One
while they are here... listen in at 1:00 pm EDT on July 23.
A word from Esteemed CEO:
Don't forget to visit the Soona Songs Store to pick up the back catalog for these artists, and the front catalog too! Thank you.
Soona Snacks - for your free download enjoyment!
Meanwhile, we wish you the very best of summers, and thank you for supporting independent music, especially ours!
Soona
---
1/31/2016
Soona's Winter Song
Greetings Soonaphiles!
Ghost Dog here, with snow to her haunches awaiting the turning light! We hope during this quiet time of year a warm fire and warming drink of your choice factor into each and every day.
Here at Soona Central we are drinking lots of cocoa and keeping warm with work! Promotion continues for Radiophonic's The Proud Ones; Kevin Elliott's Patterns of Blue is due; The Malvinas are aiming for the studio; a new Lisa Markley jazz release is emerging; Esteemed CEO is still self-recording; and we have some new Soona Snacks up to tease your ears...
First, a word from Esteemed CEO:
Looking for that perfect wintertime Valentine? Try a nice old-fashioned album from the Soona Songs Store. Our wide selection of CDs can satisfy any musical taste... one size fits all! Also available in 96k FLAC, plain old FLAC, and mp3. Thank you.
Ghost Dog notes that
The Proud Ones
, by Radiophonic is not only a great album, but our latest release, and we hope you will buy a copy, or download.

Kevin Elliott's
Patterns of Blue
is approaching completion in the usual slow and steady, hey, we're doin' art here, Soona process. Final mixes, mastering (by John Scrip), a little graphic design - look for copies to be available at the thaw!
A number of Soona Arteests gathered in Lafayette, Louisiana in January to celebrate the wedding of Malvinas member Gina Forsyth to Jan Boney! The party moved on to New Orleans, where all three Malvinas played a reunion show at The Neutral Ground. This has led to more than rumor of a third Malvinas release... Ghost Dog's 8 ball says "very likely."
From NOLA, Esteemed CEO sent Lisa Markley and Bruce Balmer (the Orchestra) back to Dallas with the mixes from their 2014 recording session. Ghost Dog's ears were very happy, hoping for a Lisa Markley and the Bruce Balmer Orchestra release soon.
Ghost Dog can report a third Marilyn Duncan (aka Esteemed CEO) album is on the way... it has only been ten years since the last one, we don't like to rush things.
New Soona Snacks!
To lift our spirits with a sad love song... When Summer Comes Again from Beth Cahill's album

Songs for Sarah

.
To shake us into action... Big Blue Whale from Bruce Balmer's album

Get Outta Park

.
And the longest song in our catalog, Wiley Herman Duncan from Marilyn Duncan's album

Departures

, which features the members of Radiophonic doing their Americana best, and the amazing Gina Forsyth on fiddle. Enjoy!
Meanwhile, we wish you warm and safe as we wait for spring to thaw us out, and thanks for supporting independent music, especially ours.
Soona
---